well... neither capitalism nor ableism have let up, but my ability to hold in my opinions has. but really, this space has become something more important to me than i realized. to those of you who have reached out in the interim, it means the world. as a writer, this space, where i can write whatever i want about things that are important to me, is invaluable. thank you for reading.
i am proud of the work of 2021.
our abolitionist deck raised funding for abolitionist orgs and paid artists and a translator for their work. there are a few decks left here. for more information check out the deck's page.
additionally, the abolitionist teaching network has awarded me a grant which i'll be using to pay contributors here (mostly my students, but if you know any working class people who want to write about abolition, send em my way). i've dreamt of being able to pay contributors and expand the perspectives here since before i sent my first newsletter. i am grateful.
---
now back to being an abolitionist killjoy.
look i like pictures of puppies and babies as much as the next person. i'm not mad at your christmas card and i'm not saying folks who send them don't also engage in mutual aid or cooperative economics... but i'm wondering if that same seasonal diligence and sense of social obligation could be activated in ways that benefit the people in our lives who have had resources kept from them.
i've spent the year listening to an learning from a variety of indigenous, black, and black indigenous organizers and historians as i taught US history to brilliant and discerning young people and over and over again one message is clear:
our individualism is lethal and the biggest obstacle on the path to collective liberation.
and it seems the more resources we get the more individualism takes hold. we worry about amassing resources for our children's future while our community suffers in the present. meanwhile, the only trickle-down economics i've ever seen work is among working class people. i've seen (and been) people with $100 to their name send $50 to someone with an over drafted account who will turn around and hand a 5 over to an unhoused person at the intersection while someone with thousands in savings passes by.
for many of us, in the wake of Ida we realized we had a substantially better safety net than most, and few direct connections to people who didn't. this means we are disconnected from the people most able to redistribute resources most discerningly and efficiently.
my push for us all as we enter a new numerical year, is to create sustainable and intentional systems to care for our community. collectivism is both a mindset and a habit we must choose over and over.
so, as you're finishing cleaning your house for the new year (or paying someone to do so) pop by a community fridge and give it a scrub, sort your old household items and bring them by a mutual aid center (my kids run one, info below), make meals to be distributed by southern solidarity to our unhoused community members, pick up a shift at common ground relief's food pantry or planting irises to prevent coastal landloss.
here are links to the new orleans based community organizations described above: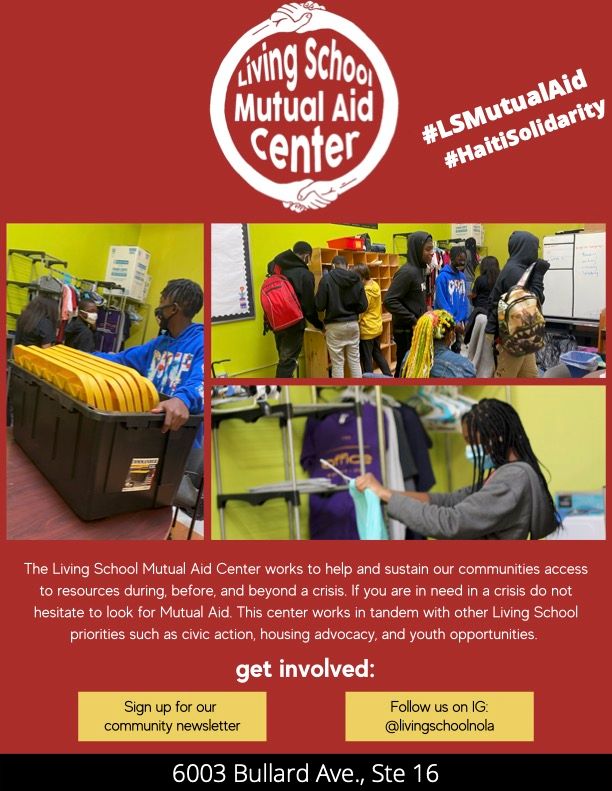 i'm happy to be back and grateful for you. as always, i hope this was useful.
with hope,
katie wills evans.